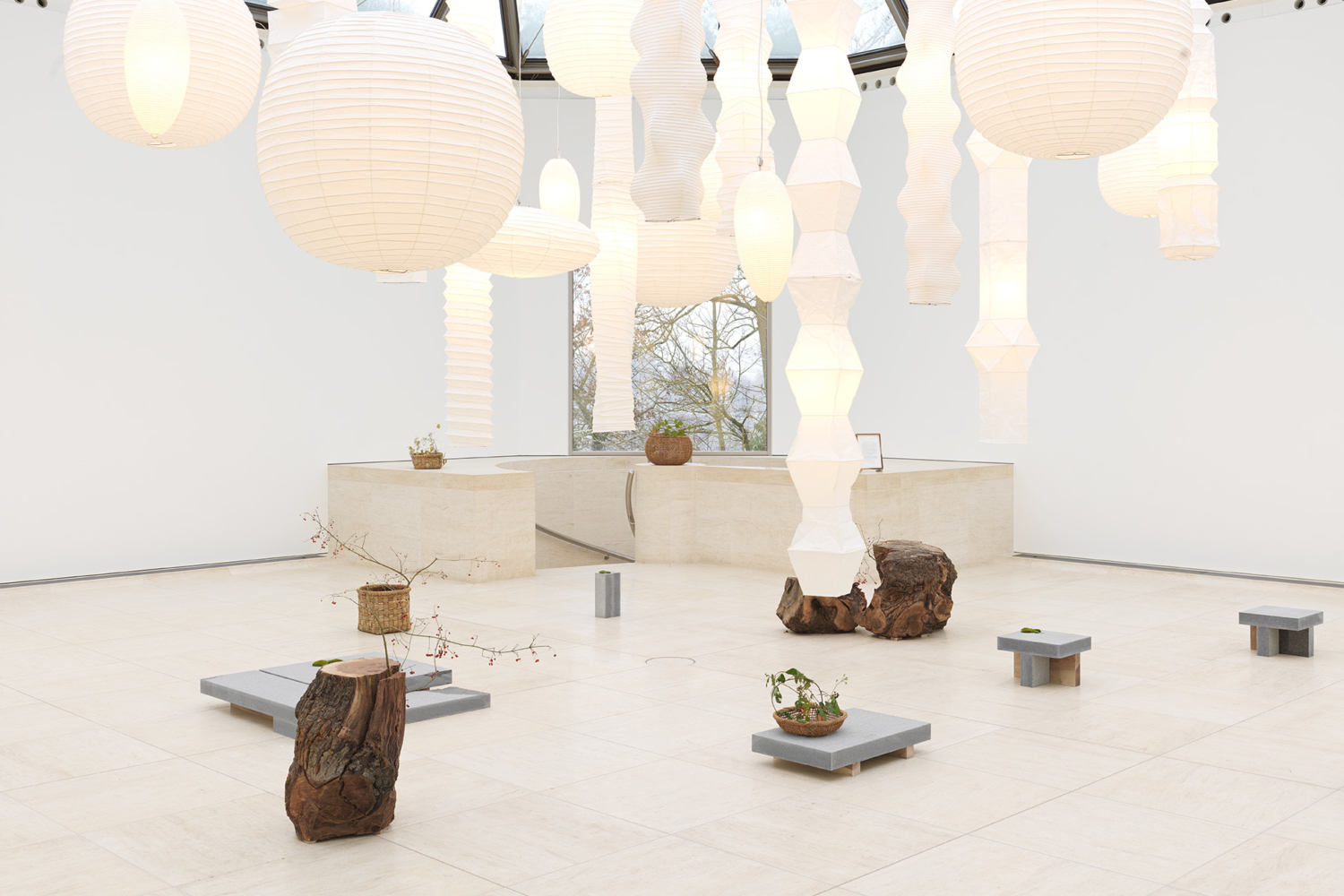 For his exhibition in Mudam's Henry J. and Erna D. Leir Pavilion, artist Danh Vo (b. 1975, Bà Rja, Vietnam) continues his ongoing meditation on the work of sculptor Isamu Noguchi (b. 1904, Los Angeles – d. 1988, New York City). This new installation is composed by Vo as an intimate dialogue between his own practice and the work of this historical figure of modern art. Noguchi's cultural identity as a Japanese American which found expression in a formal experimentation that crossed eastern and western cultures resonates with formal, thematic and conceptual preoccupations around origins and cultural translation that run through Vo's sculptural works and installations. Considering the pavilion's architectural features ­– its height and light as well as its exterior setting, the Park Dräi Eechelen – Vo has created a conceptual garden comprising a selection of Isamu Noguchi's historic Akari lamps and a new mineral- and plant-based installation by Vo.
Akari lamps hold a unique place in Isamu Noguchi's oeuvre. They achieved his hopes of bridging the divide between functional object and work of art, and to breathe modernity into traditional forms. In 1951, while visiting Gifu, a city in central Japan, the artist observed fishermen engaging in traditional cormorant fishing at night. During these outings, a lantern hanging from the front of a boat is set aflame by the fishermen to attract the fish that the cormorants, riding aboard baskets, then catch. The lanterns they use, made according to an ancestral technique using washi paper made from mulberry tree bark, were so captivating to Noguchi that he sought to modernise them. By redesigning and electrifying these lanterns, whilst preserving their sheer paper shades as well as their folding properties, he created the Akari lamps. Airy and poetic, Akari are functional, luminous sculptures that remain in production to this day. 'I believe Akari to be a true development of an old tradition,' said Isamu Noguchi.
The suspended Akari lamps form a canopy over a special kind of garden. Danh Vo's sculptures, made from sandstone sourced in Italy and walnut tree stumps, rest in a precise assemblage directly on the ground, without the use of adhesives or mechanical fastenings. Some of these floor-bound sculptures serve as plinths for arrangements made of tree branches and plants collected from the museum's adjoining forest area. These arrangements will vary over the course of the ten-month exhibition.
Vo has often given particular attention to plants and flowers in his work, their evocative qualities and their classification, and their survival beyond their places of origin within a history of colonialism and cultural appropriation.
In 2017, Danh Vo purchased an old agricultural farm north of Berlin called Güldenhof. He refurbished it and made it into an art complex that comprises crop farming and a horticultural garden. To acquaint himself with this bucolic place, which gave him the possibility to remove himself from the world and recharge, Vo started an inventory of all the flora found on the property. As a part of this process, he began a documentary photographic series featuring images not unlike those one might find in a botanical atlas. This journal-like practice now also extends to his travels, during which he photographs the various flowers he comes across. All his photographs are the same size and follow the same close-up, tight framing. The artist's father then manually inscribes each image with the Latin name of the flower it depicts. Of the more than two-hundred images this ongoing project comprises, fifty-five are being shown at Mudam. The artist has grouped them together based on the season during which they were captured and hung them on the pavilion's seven walls. The way winter, spring, summer, and fall circle around the Akari lamp 'cloud' in the centre of the space thus evokes the cycle of nature. The sparkling, impressionistic colours of the skies and flowers represented highlight the luminous and ephemeral quality of the installation.
Vietnamese-born and raised in Denmark, Danh Vo has established himself as a vital artistic voice of his generation. His multi-layered works encompass sculptures made from found objects and artefacts, photography and text, and a delegated productive labour of family members and others. Works are brought together in carefully arranged installations whose symbolic weight and evocative power trace subtly-wrought narratives that connect historical, political and social figures and events. In doing so, Vo examines the processes through which individual and collective identities are constructed.
Collaboration is a recurring act in his art. In integrating other artists' work into his installations, Vo pays homage to them and their legacy, as he does here with Isamu Noguchi, whom he considers as a model: for his defiance of conventional categorisations of art and design and their hierarchies, for his translation of cultural traditions into contemporary form, and for his ambition for art as integral to contemporary life.
Japanese American artist Isamu Noguchi is a major figure of twentieth-century sculpture. His multifaceted practice was informed by various influences, from the teachings of his mentor Constantin Brâncuși (b. 1876, Hobița – d. 1957, Paris) with whom he studied in Paris in the 1920s, to Japanese Zen Gardens and his collaborations with dancer and choreographer Martha Graham (b. 1874, Allegheny – d. 1991, New York) and the visionary architect Buckminster Fuller (b. 1895, Milton – d. 1983, Los Angeles). He maintained a life-long interest in the meaning and function of spaces, from the space of sculpture to playgrounds and gardens such as his Garden of Peace (1956-58) designed for UNESCO in Paris, and in the social and spiritual roles that art can play in the modern world.