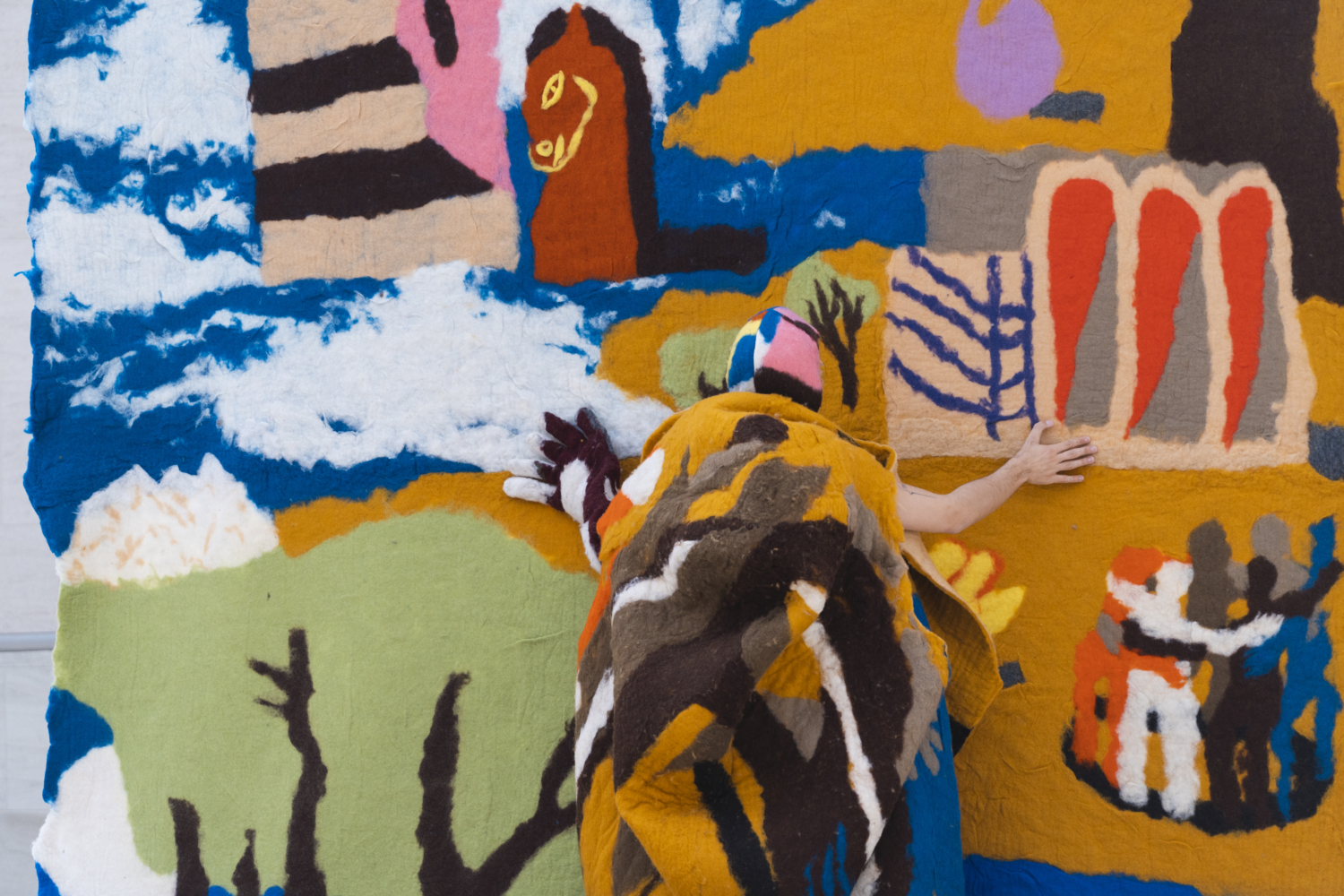 Darius Dolatyari-Dolatdoust. PARADES
Mudam marks the final days of the collection display mirror mirror, with PARADES, a series of performances by Brussels-based artist Darius Dolatyari-Dolatdoust, taking place within the exhibition and interstitial spaces on all levels of the museum.
14h00 | I become them – Performance for two performers, five costumes and a felted fresco, 2020–2021 (30 minutes)
Can the costume itself make us dance? Darius Dolatyari-Dolatdoust perceives the costume as a score, thinking of it in comparison to the text recited by an actor and crediting it with offering the performer a new sensory perception of his own body and the possibilities of moving, expanding and metamorphosising, in order to offer new narratives. Quoting the artist 'to merge to become a creature, to move, to speak, to breathe like a flower, a flag, a space: the goal is to lose a little bit of our humanity.'
Inspired by ancient Greek imagery, amongst other things, the artist created a large felt surface on which he drew patterns that represent emotions, stories and memories. Dolatyari-Dolatdoust decided to use this ancestral textile because for him, 'felting wool is already a dance in itself… it is a way of reconnecting with a common past.'
With the support of LottoZero and DHG company
The costumes and the fresco were made in collaboration with artist Célia Boulesteix.
15h00 | Flags parade – A performance for four performers and four costumes, 2021 (30 minutes)
Can we imagine a world without humans? Flags parade posits this impossible hypothesis in grotesque form: hiding the contours of the body in a flamboyant camouflage, not to make it disappear, but rather to make it appear differently. The bodies metamorphose via costumes, which transform movement and offer the dancers a new way of appearing and expressing themselves. Are they flags moving? Colourful birds? Hybrid creatures trying to communicate with each other? They seek each other, calling to one another, turning around, and finally meeting in a parade, a cry of love.
16h30 | Wearing the dead – A performance for four performers and eight costumes, 2019 (45 minutes)
Wearing the dead is a work in which both costume and body wear the notion of a heritage. Here, the costume produces its own dance via its specific design. The costume is a journey and a bridge between the artist and a culture that he inherited and fantasises about: Iran.
The costumes are inspired by the vibrations of traditional Iranian songs. Dolatyari-Dolatdoust conceived them as a second skin to be worn by bodies with different physical features as a way to understand how we build our identities. Inspired by the past but with a view to the contemporary, Dolatyari-Dolatdoust created this complex dialogue, activating 'a choreography of memory'. Here the costumes are a way for the artist to be part of a shared history in which he embodies a fictitious living memory inspired by his heritage.
By its nature, its design, the costume itself becomes the creator of and the trigger for movement. The dramaturgy builds itself in a ritual: undressing, dressing and wearing the costumes, embodying stories and history through a choreography. It's a trip, a journey that the artist wants to share.
17h45 | Cuddles – A performance for four performers, 2021 (15 minutes)
Between loving embraces and fighting, bodies mix up and amalgamate becoming a shapeless mass, a creature with multiple limbs and indistinct outlines. They appear alternately to be living sculptures, a ball of bodies without faces, in an almost motionless tension or in a movement of reconfiguration. Cuddles is a living cluster of skins, legs, arms, screaming and slamming.

Biography:
Darius Dolatyari-Dolatdoust (b. 1994, Chambéry, France) has presented works and live performances at Villa Noailles, Hyères, (2021); Critical Costume 2020, Oslo (2020); Centrale Fies, Dro (2020); Lottozero/textile laboratories, Prato (2019, 2017); Jeune Création, Paris (2019); La Maison des Ensembles, Paris (2019); with Nanna Rosenfeldt-Olsen, Copenhagen (2019). He lives and works in Brussels and Marseille.
Interview avec Darius Dolatyari-Dolatdoust (FR / Sous-titres EN)